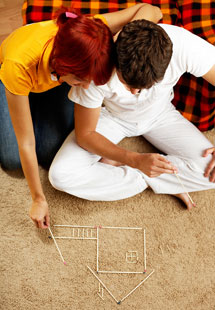 Renovation, Step By Step
From the first idea to the finished project, there's a great deal to think about when you decide to renovate. By following the eight steps listed below, you'll make sure you have answers to all the important questions, and have a well-laid plan for getting the job done.
Step 4. Pick your partners
Step 4. Pick your partners
Many homeowners decide to do their own renovations. In most provinces, you may do so, provided you get the necessary permits, follow local building codes, and have the work inspected by the appropriate authorities.
Doing it yourself can save money, but there are other costs to consider. Are you prepared to draw up your own plans, get your own permits, and schedule inspections? How much time can you spend away from your regular job, your family, and other commitments? Can you be as efficient or as skilled as tradespeople who do this specialized work every day?
You may feel comfortable painting a room or removing an old fence, but specialized tasks that involve wiring, plumbing or heating systems are usually best left to professionals. Some municipalities, in fact, require certain kinds of work to be done by certified tradespeople.
There is also the question of equipment: if you don't own the tools, you'll have to buy or rent them. If you run into problems, who will you call? Renovation is a big responsibility, and at times it can be stressful.
Most people find that contracting-out the work is best. But choosing the right renovator is extremely important.
Who's Best for the Job?
Many small jobs can be done by your local handyperson. For larger or more complex projects, however, it's a good idea to consult an architect, a design firm or a full-service renovator. Their involvement can range from taking a simple walk through your home to come up with ideas to taking responsibility for the entire renovation.
In addition to drawing up plans and layouts and hiring a contractor for you, these professionals can obtain zoning approvals and building permits, supervise the progress and quality of work, and approve payments.
Favour local firms that have been in business for a number of years. Ask for client references: satisfied customers are the best recommendation. You may even wish to tour the renovator's current job site before making a decision.
The company and its subcontractors should have proper licences to do your work, as well as adequate insurance. Don't be shy about asking: reputable firms won't hesitate to answer your questions.
Even if you give an architect or designer the fullest degree of responsibility, you should understand the renovation process, including budgets, quotes and contracts, in order to protect your interests.
Ask for recommendations from:
Friends and colleagues
Building supply and hardware stores
Local home builder and renovator associations
Better Business Bureau
Municipal building departments
Satisfied people who have recently completed a renovation
Beware of contractors who:
Quote a price without seeing the job
Demand a large down payment to buy materials: all reputable renovators maintain charge accounts with suppliers
Refuse to provide a written contract that specifies exactly what they will do
Come to the door offering a "special price" because they happen to be working in the area
Promise a discount in exchange for using your home to "advertise" their work — the same offer will have been made to everyone
Can't give you an actual business address, only a post office box, telephone number, or the address of an answering service
Estimates
Get written estimates from at least two, and preferably three, of the renovators recommended to you. An estimate is a renovator's best prediction of the charges you can expect to incur, based on his or her understanding of what you want, labour and material costs, and any anticipated difficulties.
An estimate should be in writing and include a job description, the full price, terms of payment, a schedule of work, and start and completion dates. Don't mistake an estimate for a guarantee, though, and remember that it's no substitute for a written contract.
Is the Lowest Bid the Best Bid?
Not necessarily. Renovators who submit unusually low bids may have made a mistake, or may be too inexperienced to estimate properly. When they find out they are going to lose money, they might look for ways to cut costs, add unjustified extras to the bill, or abandon the job.
Cashing Out
Some contractors may offer a discount for payment in cash with no written contract. Don't be tempted. "Underground economy" transactions are risky, and the pitfalls can easily offset any promised savings.
A contractor who insists on cash with no contract may be unlicensed and uninsured — meaning your cash advances are unprotected. He or she could neglect to obtain the required building permits, licences and certificates, or fail to arrange for inspections, landing you in trouble with your municipal building department.
As well, many product warranties are invalid unless the items are installed by a recognized contractor. And you could face personal health and safety problems because of poor workmanship.
Liabilities
If the contractor's crew is improperly trained and a worker damages your property or someone else's, or is injured on site, you may find your homeowner's insurance won't cover you. You'd then be held financially liable for any damage or injuries.
Should something go wrong or the work prove unsatisfactory, or if the contractor walks off the job without finishing it, you may have no legal recourse. Cash payments make it difficult to prove the contractor was ever there. You could end up having to pay another contractor to finish the job properly or make repairs.
After paying in full, you may discover that the contractor has not paid for materials and labour employed at your site, and you may be held accountable for those bills.
Protect Yourself
Your home represents the largest single investment you're ever likely to make. Protect its value — and yourself — by dealing with a reputable firm that operates in the open market, legally and responsibly. Your peace of mind is worth it.
Alberta Equity has helped over 50,000 people find and qualify for the best mortgages in Canada for over ten years. We do all of the heavy lifting and ensure that you get the best mortgage rates and product features available. Apply online for a free, no obligation consultation or alternatively, view our products and services.
© 1996-2009 CMHC (www.cmhc.ca). CMHC and any logos or drawings are trademarks, registered trademarks or official marks of CMHC. All other product and company names mentioned herein may be trademarks of their respective owners. Under use by permission.