Obtaining a mortgage is one of the most important decisions you may ever make, and with so many choices and ongoing decisions; the right advice can have a huge financial impact.
Find out your Credit Rating
Before looking at a mortgage, it may be a good idea to find out if you have a good credit score rating before approaching a lender, especially if you have any doubts.
Credit bureaus should provide a credit rating report to you at no charge. You can obtain a free copy through the mail by calling Equifax at 1-800-465-7166. You must fax two pieces of government issued identification, social insurance number, date of birth, current address as well as any address you have had in the last five years, and the name and number of your current employer.
Expect to wait at least ten days to receive your report by mail. Once you have your report you will know if there are any roadblocks in the way of your mortgage. Any mortgage broker can assist you with your credit report, but will also need to verify it by a credit check once you are ready to proceed with your mortgage.

Watch out, although any credit information you request personally has no effect on your rating, the number of credit checks you have banks or credit institutions perform will show up on your report and may lower your credit score.
Have a Web Site? Need to Display Rates?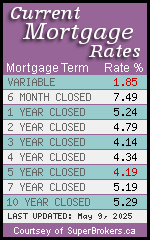 Are you a realtor, broker or financial planner with a website?

Do you need up-to-date Canadian mortgage rates displayed on your web page?

You can choose from over 200 free mortgage rate boxes to suit your web site. We also have many tailor-made rate boxes for existing real-estate companies and related websites.
We need your help!

It's the middle of the month, and we're looking for your input. Our next major update is now only two weeks away and we would like to hear your comments or suggestions.
If you would like to see a new mortgage calculator, new statistics, articles or areas within our website, please enter your suggestions here.
Canadian Mortgage Info Online
CanEquity.com has recently launched its Canadian Mortgage Statistics website providing a unique source for mortgage brokers and mortgage seekers to learn about Internet mortgage trends.
These statistics were compiled using over 20,000 surveys, plus data collected over a span of five years.
Over one thousand pages of cities and towns have been developed with data ranging from average loans to peak hours for mortgage inquires through a 24-hour day.
Some of the highlights you will find are:
Average ages, martial and residential status for Internet mortgage inquires.
Interactive flash interface allowing you to plot national and provincial mortgage originations, average incomes, and loan amounts.
Data displaying year-to-year, month-to-month and day-to-day Internet volume comparisons with complete charts and graphs.
Tables displaying provincial and national mortgage volume rankings of cities and towns throughout Canada.
These statistics are anonymous and contain no personal information, and cannot be used to gather such information; therefore this information may be used freely for educational or non-commercial use.
Closing Costs Associated with Purchasing a New Home
Be prepared to pay some closing costs when purchasing a new home. These costs are not part of the property purchase, but additional items that you should consider. However, it is important to remember that these items may not be applicable in all cases, so check with your lawyer for a complete list of all closing costs specific to your situation. Possible closings costs can include:
Legal fees
Property Transfer Tax
Interest Adjustment
Property Tax Adjustment
Property Appraisal
Property Inspection
Survey Certificate
Insurance Binder
Note: Some of these costs may be included in your legal fees as your lawyer will arrange for the service to be completed.
How Much Can I Afford to Spend on a New Home?

When trying to figure out how much you can afford to spend on a new home, it is important to decide how much of a down payment you are willing or able to put down. For example, many first-time home buyers only put 5% down because coming up with the extra money is sometimes difficult. However, the more money you put down, the less money you have to borrow and pay back. Your personal income will also be a factor in how much you can spend, so why no let our professional mortgage brokers work with you to determine exactly what you can afford to spend?