Straight from the horse's mouth. You won't find better advice anywhere—from the province's leading provider in home financing. Alberta Equity has been helping Albertans get the best from their mortgage in terms of rates, features and service since 2001.
Things to Consider When Building a Brand New Home
If you decide to build a brand new home instead of purchasing a re-sale, it is extremely important to carefully assess the following pros and cons before purchasing:
Pros
You are the first occupant meaning no one else has lived in the home
You get to decorate as you wish by selecting your colors, design features, and other various upgrades
You are protected from construction deficiencies by Provincial Law
Cons
The area is not established and is often still under construction causing excess traffic, noise, dust, etc.
Landscaping, driveway paving, and other finishing touches might take extended periods of time to have completed due to other construction in the area
The timely completion and occupancy of your new home can be delayed for any number of builder related reasons
There are some closing costs that apply to new homes
Taking the Stress out of Home Hunting

Purchasing a new home can be a major decision for many and it can also be extremely stressful. Don't let stress ruin this exciting time.
By pre-qualifying and taking all of your mortgage needs into consideration prior to house hunting, you can then focus on the small details when you are ready to start looking.
The perfect home within your price range is waiting for you, but if you need more help taking the guess work out of mortgage shopping and home buying, our brokers at Alberta Equity Mortgages will work for you.
Wipe Out High Interest before it Wipes You Out

Refinancing your current mortgage not only gives you a better rate, it allows you consolidate all your high interest loans into one easy payment.
It's one of the best ways to improve your credit score and get you saving money at the same time. Learn More
FACT: Making the minimum monthly payment of 2% ($200 to start) on $10,000 of credit at 18% interest will cost you about $38,930 and take 57 years to pay off! YES – its your credit card
Should I Purchase a New Home or a Re-Sale?
First-time home buyers have many decisions to make after deciding to purchase a new home. These decisions can be overwhelming and even frustrating if they do not have all the facts.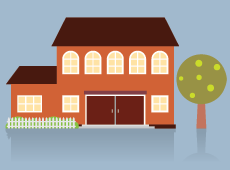 A common question for many first-time home buyers is whether or not to build brand new or to purchase a re-sale. Let our professional mortgage brokers at Alberta Equity Mortgages ease your frustration by offering solid advice while providing both the pros and cons of building brand new or purchasing re-sale.
Should I Increase My Down Payment?

Coming up with enough money for a down payment can be difficult for many potential home buyers, so they often settle for simply putting the minimum 5% down.
However, it is better to put down as much as possible towards the purchase price because the more you put down, the less money you have to borrow and as a result your mortgage payments are lower and easier to manage financially.
If you are able to put down 20% of the purchase price, then you are not required to purchase mortgage insurance thus saving yourself more money over the life of your mortgage.