Obtaining a mortgage is one of the most important decisions you may ever make, and with so many choices and ongoing decisions; the right advice can have a huge financial impact.
Lender vs. Broker...
Many people have asked us what the difference is between a mortgage broker and a mortgage lender. A mortgage broker is a trained professional that has access to loan products of different lenders and is licensed to provide you with the best advice for your mortgage needs. Mortgage brokers do not lend money. Most brokerages are small firms providing expertise services and counseling rather than loans. The lender is the one who provides the money to the borrower at the closing table. The lender also makes the final decision regarding loan approval.
So why can't you skip the middle man and go straight to the lender? Many lenders will not deal with the public for a number of reasons. For one, the cost in promoting would be too great. For example, there are many mortgage lenders based in Calgary, Alberta alone. Bridgewater, MRS Trust, Gibraltar Mortgage just to name a few. But how many of those have you actually heard of? Another reason is administration. There is a lot of paperwork involved when you close a mortgage agreement, and it just makes sense dividing up the work amongst the brokers.
Why do it Alone?
Investing in a new home is a big decision, so as a first-time home buyer, why do it alone?
Let our professionals guide you through the home buying process. We can advise you on all the legalities, the home inspection and the property appraisal. We will also work to find you the best interest rate and mortgage option that suits your financial situation.
Buying your first home can be overwhelming because of the wide variety of property available. It is important to get pre-approved for a mortgage because this will help you narrow your property search.
Our professionals will help get you pre-approved and be able to tell you exactly what you can afford, what your interest rate will be, and the amount of your monthly repayment.
Canadian Mortgage Info Online
CanEquity.com has recently launched its Canadian Mortgage Statistics website providing a unique source for mortgage brokers and mortgage seekers to learn about Internet mortgage trends.
These statistics were compiled using over 20,000 surveys, plus data collected over a span of five years.
Over one thousand pages of cities and towns have been developed with data ranging from average loans to peak hours for mortgage inquires through a 24-hour day.
Some of the highlights you will find are:
Average ages, martial and residential status for Internet mortgage inquires.
Interactive flash interface allowing you to plot national and provincial mortgage originations, average incomes, and loan amounts.
Data displaying year-to-year, month-to-month and day-to-day Internet volume comparisons with complete charts and graphs.
Tables displaying provincial and national mortgage volume rankings of cities and towns throughout Canada.
These statistics are anonymous and contain no personal information, and cannot be used to gather such information; therefore this information may be used freely for educational or non-commercial use.
Have a Web Site? Need to Display Rates?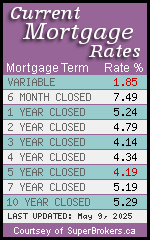 Are you a realtor, broker or financial planner with a website?

Do you need up-to-date Canadian mortgage rates displayed on your web page?

You can choose from over 200 free mortgage rate boxes to suit your web site. We also have many tailor-made rate boxes for existing real-estate companies and related websites.