If high interest rate credit cards and loan debt are keeping you from getting ahead, as a home owner you can refinance your existing mortgage and use the equity in your home to pay off that debt. With the low mortgage rates and rising property values it is a great time to consolidate your debt and even decrease your monthly payments.
Have a Web Site? Need to Display Rates?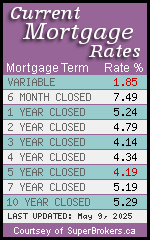 Are you a realtor, broker or financial planner with a website?

Do you need up-to-date Canadian mortgage rates displayed on your web page?

You can choose from over 200 free mortgage rate boxes to suit your web site. We also have many tailor-made rate boxes for existing real-estate companies and related websites.
Did your Bank Refuse to give you a Mortgage?
Don't be embarrassed if your current bank has turned you down for a mortgage because it happens more often than you think. At Alberta Equity Mortgages, we know it can be frustrating for clients when the bank they have been dealing with for many years, denies them a mortgage.
So, why not let our professional brokers go to work for you? We have access to numerous national lenders who are willing and eager to lend money in situations where the bank is not. Do not let your bank stand in your way and deny you the home of your dreams, simply apply online today!
Before Looking to Purchase Get Pre-Approved!

It is always a good idea to get pre-approved (or pre-qualified) for a mortgage before you decide to look at a new home.
A pre-approval will not only let you know if and for how much you are approved for, but also gives you better negotiating power and will to keep you within your budget.
Knowing that you are a serious buyer because you have already made that first important step, many home sellers will consider reducing a listed price to match your approved budget.
And by knowing how much your monthly payments are, you can then easily factor in additional cost like property taxes, utilities and insurance.
Another major advantage to pre-qualification is the rate hold. A rate hold means that you can secure an interest rate at today's current rates and keep these rates for up to 120 days or a full year on new construction. Even if interest rates drop during that time, you will still automatically qualify at the new lower rates. And, if the rates should ever go up, you would then get the secured rate.
Hiring a Home Inspector

It's often said that one of the most expensive and important purchases you will ever make will be your home. However, unlike the guarantee a buyer receives with most purchases, there's no money-back guarantee or return policy if you're not satisfied with your recently purchased home.
Once you buy a home, you're on your own to maintain it, repair it, anticipate problems and pay the bills. This is why it's best to know as much as you can about potential problems before you make the commitment to buy. Learn More