Mortgages for Second Homes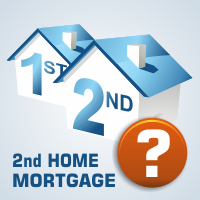 Buying a second home in Alberta is not only part of an investment strategy; it is quickly becoming a necessity for those who want to vacation close to home. With beautiful locations like Banff, Canmore and Sylvan Lake, it is no surprise that more people want to stick close to home and enjoy the scenery and splendour of their own province. Buying a second home is a convenient and cost effective way to accomplish this.
Apply for a Second Home Mortgage
Second home financing has become very popular in the last 5 years. Many people have not only looked at it as a vacation or secondary home, but also as an investment opportunity. Even in a market with ups and downs, buying a second home is still a sounder investment than putting money into a stock: hoping it will skyrocket. For the average investor or small time real estate purchaser, a second home is a good step in building a solid portfolio while enjoying the benefits of the second home. Some would call a rental property a second home. Technically, a rental property is not a second home as, you would not be using it or living in the home part of the time. Rental properties are purchased and held usually for an investment purpose only and have nothing to do with personal use.
Many lenders have products available through Mortgage Brokers that provide very reasonable and competitive financing for Second Home owners. Some lenders will allow as little as 5% down payment when they lend money for the purchase of a second home. This is very advantageous when it comes to making an offer on that perfect chalet in the mountains. The average Albertan no longer needs to scrape together 25% down payment anymore, as was required in the past. Many doors have now opened up for this ever growing need in the marketplace.
An Alberta Mortgage Broker is available to assist you with any matters pertaining to Second Home financing and the steps required to obtain the best term, rate and services surrounding this loan.
Alberta Equity has helped over 50,000 people find and qualify for the best mortgages in Canada for over ten years. We do all of the heavy lifting and ensure that you get the best mortgage rates and product features available. Apply online for a free, no obligation consultation.