Cash Back Mortgage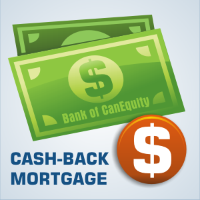 The Cash Back mortgage is still a popular option in todays Alberta mortgage market. Cash back mortgages have been around for many years and are valuable when it comes to providing cash when there is a shortfall or merely cash as an incentive for that particular product.
Many use the cash back option to cover legal costs that come with most mortgage transactions. Others use the cash back to pay for move in costs or renovations. Still others will use it to buy furniture or whatever else they may need. There is no limit or rule as to what the money can be used for. It is yours to use however you wish.
Apply for a Cash-Back Mortgage
Cash Back lenders provide money upon closing, up to 5% of the mortgage loan amount. All Cash Back Mortgages have slightly higher interest rates to accommodate the increase in loan money that is directly given to the homeowner. It is typically provided to a home owner over a 5 year fixed term. If that term is paid in full before the term end date, some of that cash back money may be due and payable directly back to the lender. If the Cash Back term rides out until maturity, the Cash Back amount is considered paid back in full and no amount is due and payable upon renewal of that mortgage loan.
There are not a lot of Cash Back lenders left in Alberta. Contacting a competent and licensed Mortgage broker will allow you to: find out everything you need to know before choosing a Cash Back Mortgage, locate the lenders in Alberta who still do offer Cash Back mortgages and obtain a loan from one of the limited number of lenders who offer the best Cash Back Mortgage loan in the marketplace.
Cash Back Mortgage at a glance
Money in hand to pay for closing costs, new furniture and home improvement renovations.
Up to 5% of the mortgage loan can be taken out as cash.
Paid back during the term of the mortgage by making your regular payments.
Alberta Equity has helped over 50,000 people find and qualify for the best mortgages in Canada for over ten years. We do all of the heavy lifting and ensure that you get the best mortgage rates and product features available. Apply online for a free, no obligation consultation.