Low Doc Mortgage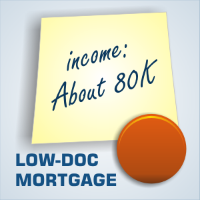 The mortgage market has changed so much in the last 5 years that one almost wouldn't recognize it. Many lenders that once made it difficult for the self-employed now embrace them as a major part of their client base. Our network of lenders now offers loan products for a great deal many situations where they previously would not be available.
The biggest hurdle for our self-employed clients is proving their income. Being self-employed gives people the freedom to take advantage of tax breaks and other benefits catered towards business owners. Unfortunately, this can be the cause of difficulty when it comes to showing enough income to qualify for financing.
Apply for a Low-Doc / Self-Employed Mortgage
Our agents are very familiar with the process of obtaining a mortgage for a self-employed Canadian. We have collaborated with the lending institutions to develop mortgages that are made with a self-employed person in mind. We are proud to say that we have assisted in making changes to the self-employed mortgage market in Canada.
DID YOU KNOW: There used to be a time when getting a mortgage while self-employed was very difficult, and if you did manage, you were at the mercy of the banks. But in recent years, low doc mortgages have been helping tens of thousands of families to finally build their well-deserved homes and reap the tax benefits of owning your own home.
Our lenders now have mortgages that require little information more than the basics for the transaction. When it comes to refinancing a mortgage, the lenders look at equity and credit. With purchases they are also interested in the credit worthiness of the client and not so strict on the income. There are more alternatives for these clients then ever before in Canada.
Low-Doc Mortgages
They are called "low-doc" mortgages for the low amount of documentation they require. Many home buyers do not receive a steady pay check. They own businesses, earn commissions, live off investments or get paid in cash. With the low-doc mortgage, the documentation required for proof of income is dramatically reduced. But, there is an added cost to these mortgages. They do come at a higher interest rate. Low-doc mortgages are also designed to help recent immigrants with money in foreign countries or for borrowers who cannot or choose not to reveal information about their incomes.
Here at Alberta Equity, we have access to the best low-doc mortgages available. Many of our low-doc mortgages are only a half of a percent higher than our best rate. And many of these can be customized to meet your requirements.
Three year fixed rates as low as 4.74% with a low documentation mortgage.
Contact our office or apply online to take advantage of these and other products and services now available to the Canadian self-employed consumer.
Low Doc/Self Employed Mortgages at a glance
PROS:
Lenders are looking at credit more than income.
The available rates and terms are flexible.
Income proof is not as strict as it is for employed applicants.
Approvals are based on equity.
CONS:
The interest rate may be slightly higher.
Premiums may be attached for higher risk applicants.
If income tax debt is outstanding, it can slow down the loan process.
This mortgage is available:
Across Canada*
On residential single-family, owner-occupied properties
On conventional (uninsured) or high-ratio (insured) loans
Alberta Equity has helped over 50,000 people find and qualify for the best mortgages in Canada for over ten years. We do all of the heavy lifting and ensure that you get the best mortgage rates and product features available. Apply online for a free, no obligation consultation.