Home Equity Loans & Lines of Credit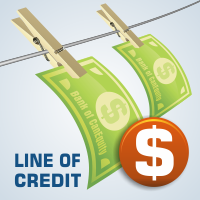 A home equity loan is a mortgage that uses the equity in your home as a means to borrow money. It is like refinancing your house, but funds can be taken as a lump sum from the loan or used when needed from a line of credit. Home equity is basically the difference between the amount owed to the bank on a mortgage and the appraised or tax assessed value of your home.
Banks use either automated valuation systems or an actual appraisal to determine the true accurate value of the property. Once this is done, banks use the difference between that number and the money owed on the property to determine how much of that equity can be accessed and how much money can be borrowed.
There are a few ways to increase the equity in your home which include paying down the mortgage or loan quicker or increasing the value of the home through home improvements and renovations. Once the equity position is determined, an equity loan may be obtained using the basic guidelines below:
Home Equity Loans
For the most part, the terms of a home equity loan are the same as a regular mortgage. For example, the payments on a home equity loan are blended parts of principal and interest just like a regular mortgage. A professional and experienced mortgage broker can educate you about the subtle differences and assist you with making a decision about which home loan mortgage best suits your needs.
Apply for a Home Equity Loan
When considering the type of loan that best suits your needs, keep in mind that home equity loans:
Are usually closed, but can be open or blended.
Typically only require 5 percent equity when purchasing.
Allow borrowers to access up to 80 percent of their home equity when refinancing.
Have two types of rates available to choose from:

Fixed rates that are guaranteed for the life of the loan term.
Variable rates that are dependent on prime and may fluctuate over the life of the loan term.

Work like regular mortgages where one loan is arranged and must be repaid in terms from one to 25 years.
Have repayment schedules that can be amortized up to 25 years to create lower, more manageable monthly payments.
Do not generally allow for interest-only payments.
Are not usually reported to credit bureaus.
Home Equity Line of Credit
A home equity line of credit (HELOC) works like a regular line of credit, but with one difference - it is secured by your home. For example, if you borrow $40,000 and your HELOC is setup for 10 years, you have up to 10 years to repay the loan. If you do not pay it back, the loan can be rolled into a regular mortgage upon your next mortgage renewal. Home equity loans can be used for consolidating high interest debt, purchasing a second home or property, investment opportunities, or even renovations.
Apply for a Home Equity Line of Credit
When considering a home equity line of credit, keep the following in mind:
HELOCs are fully open.
The require a minimum of 20 percent equity when purchasing a home.
Borrowers can access up to 80 percent of their home equity when refinancing.
It is a revolving credit line. You can take money out at any time and pay back the full amount whenever you choose.
You must make minimum interest payments (typically interest-only).
The closing costs for home equity loans are similar to regular mortgage refinance.
Some HELOC products are reported to credit bureaus.
Alberta Equity has helped over 50,000 people find and qualify for the best mortgages in Canada for over ten years. We do all of the heavy lifting and ensure that you get the best mortgage rates and product features available. Apply online for a free, no obligation consultation.