Secured Credit Card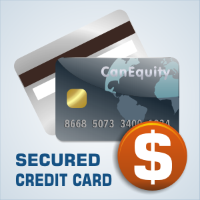 Credit cards are no longer a luxury; they have become a necessity of life. Whether you need to rent a car, book a hotel room or you have an emergency with no cash readily available, credit cards are a part of life that will not disappear anytime soon. Getting a credit card though is not always easy. Some people may lose their ability to have a credit card due to previous credit issues. Others may have just never felt the need to have a credit card before now. Either case means that it can be extremely hard to be approved for a credit card.
Does this mean that all hope is lost? Not anymore. Many Canadian banks and lenders are looking into revising their credit granting services and being more open to providing credit cards to some Canadians with a less than perfect credit history. The secured card has become the solution. The secured credit card is, depending on the bank, a credit card requiring a deposit or a no deposit option.
Apply for a Secured Credit Card
The Deposit Option
These credit cards can be issued to someone providing a deposit with a limit starting at 1,800 dollars. The 1,800 dollar minimum limit is important when it comes to building or rebuilding credit. Many lenders or credit granters will not recognize a credit card or credit reference unless it has a minimum limit of 1,800 dollars.
DID YOU KNOW: Going bankrupt or missing payments won't be the end of your credit. Using a secured credit card with a deposit is a fail-safe way to rebuild your credit over time. Repairing your credit isn't something that you do quickly. It's a ongoing process of proving that you're able to repay the money you borrow. With a deposit on a secured credit card, you're protected from credit problems because all of your purchases are backed by the original deposit.
When the deposit is received by the lender or credit card grantor, a card is issued for that same amount as its limit. The card holder uses the card like a regular credit card. The balance can be paid at anytime on purchases made with the card and a minimum payment can be made with a balance owing month to month. If the card holder goes into default or starts to miss payments, the credit card grantor may cancel the card and take the remaining balance owing from the deposit amount. The remainder of the deposit is then given back to the card holder once the account is cancelled.
The No-Deposit Option
The no deposit option is a secured credit card with a very low limit offered to the card holder to start. It can be as low as 250 dollars and can take much longer to build up the limit to the minimum 1,800 dollar required limit for credit reporting and reference. This card requires no deposit and is also offered to Canadians with a less than perfect rating or no credit rating at all. Even ex bankrupt applications are reviewed and seriously considered for membership. This card is becoming more popular because it requires no deposit.
There are more credit card grantors that are entertaining the secured credit card offering for previously ineligible Canadians. Our mortgage brokers can offer secured credit card advice and applications if requested. If you think you may benefit from this service, contact us today.
Secured Credit Cards at a glance
These credit cards are for people interested in building or rebuilding credit
Secured credit cards with the deposit option are secured against your original deposit
Secured cards without the deposit start with small limits and let you work your way up to higher limits. This will help you build your credit one step at a time.
Alberta Equity has helped over 50,000 people find and qualify for the best mortgages in Canada for over ten years. We do all of the heavy lifting and ensure that you get the best mortgage rates and product features available. Apply online for a free, no obligation consultation.