Investment Financing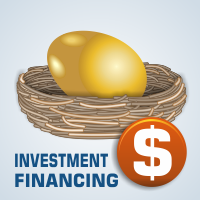 Financing for RRSPs, GICs, Mutual Funds, Stocks and Investments other than Real Estate Properties
We have many clients who would agree that having an investment portfolio with more than real estate in it is a wise decision. That is why Alberta Equity has worked closely with many lenders to supply mortgage products that allow for advancing of funds to invest in whatever our clients decide. Get the funds you need while refinancing your current mortgage into a new and better low interest rate loan.
Apply for Investment Financing
Home Equity Line of Credit
A Home Equity Line of Credit or HELOC is becoming popular; especially in times were the prime rate is low. This option has some unique advantages, like interest only payments, but may not necessarily be the best route to take when it comes to taking money from the home to invest elsewhere. Every client, as well as every investment strategy, is different. We give you all the options for a safe and smart investment portfolio. Learn more about the Home Equity Line of Credit.
Home Loan Equity Take-out
This is a popular avenue to take when looking for money to invest in stocks, bonds, RRSPs or even buying a business. Many lenders even allow you to take equity from your home to purchase a secondary property for revenue or vacation purposes. Unlike with a HELOC, this option guarantees that you pay down the loan while your investment grows.
These are the most cost effective and common ways to utilize your equity to grow your personal wealth and income. Alberta Equity will walk you through the process of assessing which plan is right for you. We have experience in all aspects of the investment strategy arena. We also have Investment Brokers within our close network that give us constant insight so that we can pass this information on to our clients.
Alberta Equity has helped over 50,000 people find and qualify for the best mortgages in Canada for over ten years. We do all of the heavy lifting and ensure that you get the best mortgage rates and product features available. Apply online for a free, no obligation consultation.