No Money Down Mortgage
Legacy page
Important Note: Because of recent regulatory changes, the No Money Down mortgage product is no longer available. This page has been left in place for historical reference purposes only. Click the following link if you would like to apply for a different mortgage product.
If you have any questions about how to obtain a mortgage, please contact one of our qualified mortgage agents through the "Contact Us" link on the menu above, or by clicking here.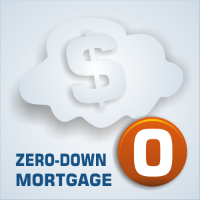 Historically, buying a home required at least a 5% down payment. This is no longer a hard and fast rule; more options are now available to Canadians. With no strings attached, Alberta Equity can obtain financing for 100% of the appraised value of your future or existing home. If you can afford a mortgage payment but can't come up with the mandatory 5% down payment that most banks require, a No Money Down Mortgage may be right for you. There is a lending company in Canada that offers 100% financing for the purchase of a new or existing home.
DID YOU KNOW: If you're renting, you can probably afford a mortgage. Rather than paying off your landlord's mortgage, you could be paying your own, and building equity in your house.
Apply for a Mortgage Today
With the 100% or No Money Down mortgage term and rate being as favourable and affordable as it is, it allows you to start building equity from you first payment with the option of making additional lump sum payments whenever you can afford to do so. A No Money Down Mortgage may have a slightly higher interest rate, but it's still better than many bank posted rates for a regular mortgage and is still backed by CMHC.
All No Money Down / 100% Mortgages are available across Canada. In order to qualify for this mortgage you must have an established, clean credit history and good job tenure with steady income. A minimum of two years in the same line of work is preferred.
If you are renting, you can probably afford a mortgage. Stop renting and start building home equity today with a No Money Down Mortgage from Alberta Equity. Call Alberta Equity today or fill out our easy to use secure mortgage application.
No Money Down Mortgage at a glance
PROS:
You can own a home without a large deposit or down payment.
You can build equity immediately rather than continuing to rent.
You can buy a home when the price is right for you instead of risking an increase in prices while trying to save a down payment.
CONS:
Insurance premiums can be higher.
Interest rates can be higher.
If you need to sell or refinance within a year or two, there is no equity in the property.
Qualification for this mortgage is stricter than a mortgage with a minimum 5 per cent down payment.
There are not as many lenders or products available for a no money down mortgage so, there are fewer term or rate options.
This mortgage is available:
Across Canada*
On residential single-family, owner-occupied properties
On high ratio (insured) loans
Alberta Equity has helped over 50,000 people find and qualify for the best mortgages in Canada for over ten years. We do all of the heavy lifting and ensure that you get the best mortgage rates and product features available. Apply online for a free, no obligation consultation.